The Series
Every year the Friends sponsor a speaker series with local presenters that cover a variety of topics.
Coming This Year
The Friends of Hannon Library has announced its 2023–2024 Speakers Series. This year the Friends will bring a total of six events on literary and historic topics. All events are free and open to the public in the Southern Oregon University Hannon Library's Meese Room (Room 305). Zoom links will be posted prior to each event. For more information on the events, contact Hannon Library staff at libraryevents@sou.edu or (541) 552-6816.
Metered parking is available for those visiting campus to attend the event in parking lots 1, 12, 29, 36, 37 and 41. Those who need disability accommodations to participate in the event, may contact SOU's Disability Resources office at (541) 552-6213.
Oct. 12, 2023, 5:30 pm
Jeffrey Max LaLande, "The Jackson County Rebellion": A Historian's Long Journey to Resuscitate Awareness of a Near-Forgotten Episode in Southern Oregon's History.

This presentation will deal with a once-notorious local political uprising that occurred during the Great Depression—one that made national headlines. This dramatic event eventually involved the brazen theft of ballots by county officials and it resulted in fatal violence; Medford's Mail Tribune earned the Pulitzer Prize for its brave coverage of the populist rebellion.
Jeff LaLande has been a resident of the Rogue Valley for nearly fifty-five years. He graduated in 1969 from Georgetown University in Washington, D.C., and later received a Ph.D. in American history from the University of Oregon. He worked for over thirty years with the U.S. Forest Service as an archaeologist and historian and has published articles and several books on regional history.  His most recent book (2023) deals with the subject of this upcoming Friends of the Hannon presentation.
The event may also be viewed live on Zoom through the following link: https://sou.zoom.us/webinar/register/WN_Q8JieYkGTTy0ofMPwr9Erw

Nov. 9, 2023, 5:30 pm

Thomas Dodson will read from his debut short story collection, No Use Pretending which was selected by Gish Jen for the Iowa Short Fiction Prize. No Use Pretending has been praised for its "range of emotions and voices" (Jess Walter, author of The Angel of Rome and Other Stories), the "complicated humanity" of its characters (Margot Livesey, author of The Flight of Gemma Hardy), and its "captivating vision of hope, regret, and resilience" (Tom Drury, author of Pacific).
Thomas Dodson is a writer and librarian with work in The Missouri Review, Gulf Coast, The Cincinnati Review, and elsewhere. His story collection, No Use Pretending, appears in October of 2023 and is available from the University of Iowa Press. His fiction has been awarded the 2022 Robert and Adele Shiff Award and the 2020 Jeffrey E. Smith Editors' Prize. His story "Keeping" was selected by the editors of Best American Short Stories as a distinguished story of 2022.
Jan. 11, 2024, 7 pm
William Stafford Birthday Celebration
Feb. 8, 2024, 5:30 pm
Caroline Lion, Author of Reading Shakespeare in Jewish Theological Frameworks: Shylock Beyond the Holocaust.

This presentation, "Reading Shakespeare in Jewish Theological Frameworks," draws on Jewish theology to mount a courageous new reading of a four-hundred-year-old play, The Merchant of Venice. While victimhood and antisemitism have been the understandable focus of the Merchant critical history for decades, Lion urges scholars, performers, and readers to see beyond the racism in Shakespeare's plays by recovering Shakespearean themes of potentiality and human flourishing as they emerge within the Jewish tradition itself.
Caroline Wiesenthal Lion is a Visiting Research Associate at the New Swan Shakespeare Center, the University of California, Irvine, and a 2023 recipient of the Huntington-Oxford Exchange Fellowship. She holds a Ph.D. from the Shakespeare Institute, University of Birmingham.
Mar. 14, 2024, 5:30 pm
John Pratt, Celestina Vineyard, "Why The Rogue Valley is a Treasure in the Climate Changing Wine World"

This talk will focus on the special attributes of the RV that position it in uniquely beneficial position to surge ahead of other regions as a supplier of top quality grapes and wine. We will examine weather, soil, and other aspects that are so important here.
John Pratt grew up on a farm outside Lodi, CA, and learned growing from an old Italian farmer Giovanni Franzoni. After growing up and pursuing a career in education for 40 years in CA, he has returned to farming in So OR and concentrated on wine grapes.
April 11, 2024, 5:30 pm
Jan Wright, John Beeson: Oregon Outcast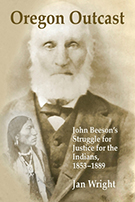 This presentation features the story of John Beeson (1803–1889) who was called the Indian Apostle, Father Beeson, the Alpha and Omega of the Indian cause, a monomaniac, a depraved liar, vile, fanatical, and venerable. An advocate of justice for the Indians, he was politically disqualified for residency in Territorial Oregon. But his passion for justice and human rights in the face of adversity still resonate today.
Jan Wright is the archivist at the Southern Oregon Historical Society. She has studied the region's early history for over 20 years, developing a deep knowledge of its unique story and people. She also serves as the archivist for Harry & David and has been the executive director of the Talent Historical Society. She is the author of Oregon Outcast: John Beeson's Struggle for Justice for the Indians 1853–1889 and Talent (Images of America).
---
Recordings of previous Friends of Hannon Library lectures can be found on the Hannon Library YouTube page.