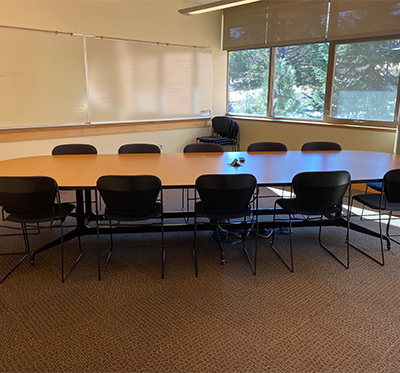 Description
Located near the Hannon Library's administrative offices, the Higgs Seminar Room (LIB 329) is a mid-sized conference room suitable for committee work or small-group presentations. With both whiteboard and bulletin board space, plus a projection unit, your team should have everything they need to properly visualize their project.
The Higgs Seminar Room was given in loving memory of Georgia and Leo Higgs by Robert and Lori Deveny in 2003.
Fees
SOU Fees
SOU faculty and staff may use this room without charge.
SOU vs. Non-SOU Fees
Faculty and staff may use the "SOU Request" button. Student groups requesting this space may do so through their faculty/staff advisor.
Non-Profit, Private, and Government entities (non-SOU affiliated groups) may use the "Non-SOU Request" button. Please email the completed application packet to libraryevents@sou.edu.