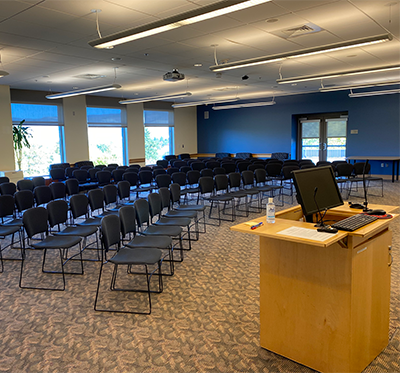 Description
The Meese Room (LIB 305) is the largest meeting space at Hannon Library, which makes it ideal for accommodating a range of events—lectures, workshops, and even banquets can be held in this space. Located on the third floor, the Meese Room also hosts a seasonally available outdoor terrace with panoramic views of Grizzly Peak.
The Meese Room is named for Jed and Celia Meese who generously contributed to the redesign of our building in 2003.
Fees
SOU Fees
*The default lecture setup is free. Other setups and break downs will be assessed at the FMP campus support team's rate of approximately $55 per hour.
SOU vs. Non-SOU Fees
Faculty and staff may use the "SOU Request" button. Student groups requesting this space may do so through their faculty/staff advisor.
Non-Profit, Private, and Government entities (non-SOU affiliated groups) may use the "Non-SOU Request" button. Please email the completed application packet to libraryevents@sou.edu.